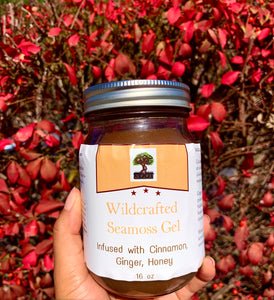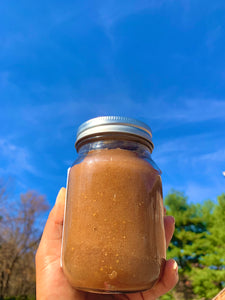 Sea moss infused Cinnamon, Honey & Ginger
Regular price
Sale price
$35.00
---
Sea moss infused with Cinnamon, Ginger & Honey is a more palatable creation in addition to diverse healing ingredients!
Sea moss helps strengthen bones, joints, skin, may reduce inflammation, natural aphrodisiac, helps regulate metabolism, helps balance thyroid function, neuro protector, may  bind with radioactivity, helps to calm appetite, may support glands & help ease respiratory illnesses. Contains up to 92 minerals; calcium, potassium, magnesium, iodine, phosphorus.
Ceylon Cinnamon is full of antioxidants, which help your body handle free radicals and lowers your risk of health conditions like cancer, heart disease, and diabetes. Ceylon cinnamon is also rich in the mineral manganese. This mineral helps your body manage the enzymes that produce hormones and help repair your bones.
 Raw honey 
Anti-inflammatory Effects
Honey contains antioxidants, which can protect the body from inflammation. Inflammation can lead to a variety of health issues, including heart disease, cancer, and autoimmune disorders. One study discovered that antioxidants in buckwheat honey were detectable in blood plasma, showing that eating honey could enhance antioxidant activity in the body.
Cough Relief for Children
Health authorities do not recommend over-the-counter medications to treat young children's coughs and colds. Some parents may look for natural remedies. In one study, two teaspoons of honey relieved children's nighttime cough and allowed them to sleep. However, doctors do not recommend this practice for children less than a year old.
Ginger root 
Nausea relief. Encouraging stomach emptying can relieve the discomforts of nausea due to:

Chemotherapy. Slattery, who works with patients receiving chemo for cancer, says ginger may take the edge off post-treatment nausea, and without some of the side effects of anti-nausea medications.
Pregnancy. For generations, women have praised the power of ginger to ease "morning sickness" and other queasiness associated with pregnancy. "Even the American Academy of Obstetrics and Gynecology mentions ginger as an acceptable nonpharmaceutical remedy for nausea and vomiting," Slattery says.

Bloating and gas. Eating ginger can cut down on fermentation, constipation and other causes of bloating and intestinal gas.
Wear and tear on cells. Ginger contains antioxidants. These molecules help manage free radicals, which are compounds that can damage cells when their numbers grow too high.
Ways to ingest:
Smoothies, teas, facials, bath water, soups, juices
Suggested use:

Keep refrigerated for up to 2 weeks. Take 2-3 tbsp twice a day.
Free of:
Artificial flavors
Allergens (soy, corn, dairy, tree nuts, gluten, peanuts, sesame, fish)
Preservatives
Our Brand Promises:
Vegan/alkaline
Made with 100% organic ingredients
Non-GMO