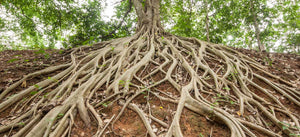 About Ancient Healing Root
Arianna Blakemore, age 27 is a Holistic Health Coach, Detox Specialist, and an Herbalist. Arianna has dedicated her life to understanding the nature of disease by teaching people how to grasp and utilize the power of food, self-care, and detoxification as an empowering lifestyle. Her teachings are based on the principles of Ancient African Traditions infused with Traditional Chinese medicine. Arianna studied exercise science/kinesiology at SIUE wanting to pursue a career in Occupational Therapy before walking into her life mission. While attending school, she also studied herbalism, nutrition, and detoxing as a hobby. Putting everything she learned to the test, she began to heal herself. Arianna became a walking testimony of the power of raw food/plant based food as medicine. " Rehabilitation/exercise means nothing without the proper fuel". She would see a revolving door of patients come in with the same reoccurring injury while working as a Rehab Aide at Athletico physical therapy. She began to see the flaw in the healthcare system, and wanted to create a new approach. She began to educate patients on what to eat, in order to heal.
March 2020 was the birth of her brand Ancient Healing Root, during the pandemic, she quit her job working for Human Resources in order to pursue her life's work. She embarked her Plant Based Whole Food journey May 2020 giving up all flesh foods (meat, fish, eggs, dairy) in order to renew her mind, body, and spirit. "In order to guide others to escape the societal chains I have to free myself". On November 11th 2022 Arianna was divinely chosen to be a part of the 2022 Southern Illinois Farm Beginnings Program with a full scholarship. Arianna is a first generation farmer who is an extension of New Cahokia Commons Urban Farm. Her farm dream is to have a restorative community based organization that provides a relational vision of health. Arianna 's farm is called Seeds of Hope. Her mission is to rebuild the connection between humans and nature, by practicing ancient tools that are rooted in healing our mind, body and spirit through environments. She believes by restoring the land we then begin to renew our spirits.