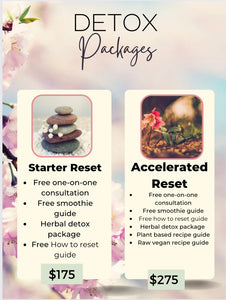 Detox Packages
Regular price
Sale price
$175.00
---
Listed are two different packages designed to fit you and your health goals! Each package includes an herbal detox package, smoothie guide, how to reset guide and a one-on-one consultation with me, Holistic Health Coach Arianna Blakemore! The recipes guides are plant based focused to give you the best healing outcome. 


Herbal detox package includes blood root capsules, lymphatic root capsules, and gut root capsules along with sea moss gel. Each set has 100 capsules within them lasting 4 weeks when taking 2 twice a day which is the recommended dosage.
Blood root
Purifies and recharges the blood by helping to cleanse the kidneys, liver, and entire body.

May lowed blood pressure and helps control heart murmurs.

Helps to provide an abundance of oxygen in order to dissolve inflammation, boost immunity and energize the cells.

May reduce 

skin conditions. Powerful source of antioxidants and mineral supply.
Gut root
Targets the colon, liver & pancreas to help rid of the undigested food.

A gentle laxative that may enhance nutrient absorption, eases bloating/gas, rebuilds gut flora, kills bad bacteria & parasites.
Lymphatic root
helps to cleanse and nourish the cells that make up the lymphatic system.
Breaks up and may remove calcification to provide protection to the body.
Helps Circulate white blood cells to kill bacteria/foreign invaders. May alleviate sinus congestion, allergies & swollen glands.
Smoothie recipe guide includes six smoothie recipe from berry blends that enhance immunity and balance hormones, green blends that recharge the blood giving you vital energy and restore the kidneys & liver.
How to reset guide is a comprehensive outline explaining how to prepare for your detox. Setting the foundation for a cleanse allows the body to work through all channels smoothly without shock. These simple steps can be done in the comfort of your own home! While embarking on your detox journey these steps are to be followed to enhance the detoxification process through mind, body, spirit techniques. 
Raw vegan recipes  includes uncooked meals that will excite your taste buds! Smoothie and juice blends are added into the guide to broaden your raw journey!
Plant based recipes are great for a transitional vegan or someone who just wants to add more plants their plate! Meals include, banana nut waffles, jerk jackfruit tacos, cinnamon french toast, chickpea tuna, nutty butter smoothie and so much more!
Nutritional guidance and herbal medicine package is crafted by me, Arianna Blakemore, creator of Ancient Healing Root!
I look forward to supporting you on your healing journey!